22 avril 2018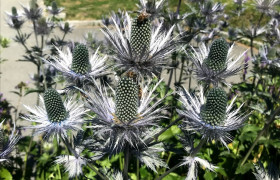 In the mountains, we can see climate change acting on fauna, flora and landscapes.
Everyone must act.
Since 2007, every year, we work to reduce our impact on the environment through various actions:
- Energy saving: insulation of apartments, low consumption light bulbs, water flow reducer ...
- Management of our green spaces: use of natural fertilizers, no pesticides, use of rainwater for watering
- Protection of local species: we prefer the endemic plants of the region (larch, blue thistles, edelweiss, lily martagon, etc ...) and we have the pleasure of seeing the birds nest in the trees or on the house.
Our most beautiful awards: a family of swallows who have been home-ridden since 2007, ladybugs who care for aphids, bees foraging our various varieties of flowers. During your stay, you can also act with us! Enjoy your stay at the Marquis!